The Law Offices of Catherine Haley
When you are facing a legal problem, you want to retain a lawyer who you can work with to help solve the problem for you. You want a lawyer who is qualified and experienced, and someone you can trust. I offer over 22 years of experience in negotiating and litigating legal matters for my clients. I personally handle my cases and work with compassion because I understand the emotional and financial stress people experience while working with the legal system.

FAMILY LAW
There are so many types of concerns that lead a person to call a family law attorney for help. The range of these problems includes questions about divorce, legal separation, custody of children, spousal and child support, restraining orders and dividing up property. Call my office and I can advise you on all of the related family law problems and issues.

PROBATE
What do I do: I have a trust I want to change? My dad died without a will? I am the trustee and I don't really understand what I  supposed to do? My sibling took advantage of my sick parent and changed his or her will? Do I need a trust or a will? These and many other concerns are questions I have answers to and plenty of experience handling. Call my office and we can discuss your situation.

CIVIL LITIGATION
Call my office for an appointment and I can give you advice on how the legal system works. I will provide you with assistance for contract issues and personal injury issues. Each person has his or her own unique circumstances and needs to be assisted with that individual approach. This personal aspect of each case is what makes my practice so rewarding and exciting. Call my office to get the representation you deserve.
TESTIMONIAL
"Having retained Catherine on two distinct and complex matters, I have been profoundly impressed with her breadth and depth in multiple areas of family law. She is an acute listener, extremely insightful and clearly frames all answers to even the most vexing questions. A tireless advocate on behalf of her clients, she exhibits the utmost professionalism in all areas of conduct." Read more…
Frequently Asked Questions
HOW MUCH WILL MY DIVORCE COST?
This is an "it just depends" answer. Family law lawyers charge by the hour and the average hourly rate is $390.00 to $410.00 in the Bay Area. Complicated property issues and difficult custody issues can increase the cost of a divorce significantly. Read more…
WHAT IS A CONTINGENT FEE AGREEMENT?
This type of agreement is used in most types of civil litigation cases, particularly in personal injury matters. The client does not pay anything up front to the attorney, or will just fronts the costs depending on the agreement reached between the attorney and the client. Read more…
DO I NEED A WILL OR A TRUST?
Generally, this answer used to be dependent upon tax consequences but trusts have become more popular over time because the ultimate distribution of your property does not require going to court. With a will, you need to file a probate action and the court oversees the distribution. Read more…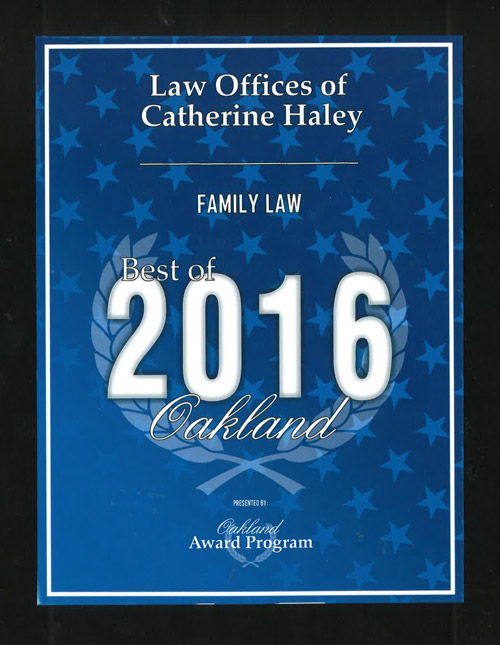 We are here to help
To learn more about our services, feel free to email us or call at (510) 444-1881.
Law Offices of Catherine Haley
1633 San Pablo Avenue
Oakland, CA 94612
Telephone: 510-444-1881
Fax: 510-444-5108